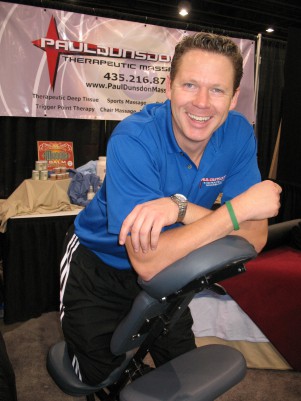 Paul Dunsdon is nationally certified through the National Certification Board for Therapeutic Massage & Bodywork (NCBTMB) and is a licensed massage therapist. As a graduate of Sensory Development Institute, he completed the 800 hour program which included rigorous training in Anatomy and Physiology, Pathology, Kinesiology, Sports Massage, Shiatsu, Reflexology, Swedish Massage, and Deep Tissue Massage.
He has been serving the southern Utah community since 2008 and opened his private practice in 2009.
Paul's detailed understanding of the body allows him to treat injuries with confidence and efficiency. He has worked with elite athletes of all ages from around the world as a therapist of IRONMAN ST. GEORGE, THE ST GEORGE MARATHON, THE HUNTSMAN WORLD SENIOR GAMES & THE DIXIE REBELS Semi-Pro Football team.
An avid outdoorsman, Paul also has an athletic background that includes competitive experience in Track, Water Polo and Dance. As a formally trained dancer, Paul is acutely aware of the power and fragility of the human body.
His passion for helping people extends beyond the work day as a Disaster Program Manager for The American Red Cross. He is on call 24/7 and oversees the disaster services of the 8 southern counties of Utah and is qualified for national deployment in disaster relief. He is a certified instructor of CPR, FIRST-AID & AED.
Therapist profile Paul Dunsdon
Certified Advanced Sports Massage Therapist
Certified Therapeutic Therapist
Certified Deep Tissue Massage Therapist
Certified Trigger Point Therapist
Certified Shiatsu Therapist
Certified Swedish Massage Therapist
Additional skills:
Myofacial Release
Facilitated Stretching
Proprioceptive neuromuscular facilitation (PNF) stretching,
Extensive knowledge of human anatomy and movement based in Kinesiology
Orthopedic Massage
Certified Chair Massage Therapist
Member since 2008 Associated Bodywork & Massage Professionals (ABMP)
National Certification Board for Therapeutic Massage & Bodywork (NCBTMB) Certified Massage Therapist since 2009
Owner, therapist at Paul Dunsdon Therapeutic Massage & Sports Massage of Dixie est. 2009
Notable experience:
Therapist at the St George Marathon 2008, '09, '10 ~ St George Triathlon 2011
Massage Captain of IRONMAN ST GEORGE 2010, '11, '12.
Massage Captain IRONMAN ST GEORGE 70.3 U.S. PRO CHAMPIONSHIP since 2013
Personal therapist for 2010 IRONMAN ST GEORGE winner Michi Weiss in 2011
Over 3,000+ massage therapy hours experience providing massage at sports events, team training support, business outreach events and in private practice.
Athletic pursuits: SPARTAN RACE ATHLETE
Sprint, Super and Beast to be completed in 2016 & gain entrance into the trifecta club and qualify for the Spartan Death Race.
Other hobbies include: Sailing, Rock Climbing, Running, Rafting, Weight Lifting, Canyoneering, Backpacking, Rappelling, Adventure Racing. Martial Arts, Hiking, Camping.
Volunteerism: Instructor of FIRST AID / CPR & AED certification